Bringing Sexy Back!
Spring 2013 Cleanse and Detox
Enjoy a brighter glow and say Good Bye to the dull days of winter!
Fresh and Fabulous Slimming Salads
Sweet and Savory Breakfast Options
Two NEW health packing bikini slimming Greenie Bikini Smoothies
Tuscan, Asian and Latin inspired dinner entrees
All Designed to rejuvenate your body on a cellular level
From the INSIDE out!
Better than any cream and more affordable than a procedure.
Body Love Seasonal Cleanses – Teaching SEXY year round!
Spring 2013- Bringing SEXY Back!  Available April 1, 2013
Click image below for details!
Early Bird $20.00 Discount extended thru this weekend! Expires Sunday Midnight.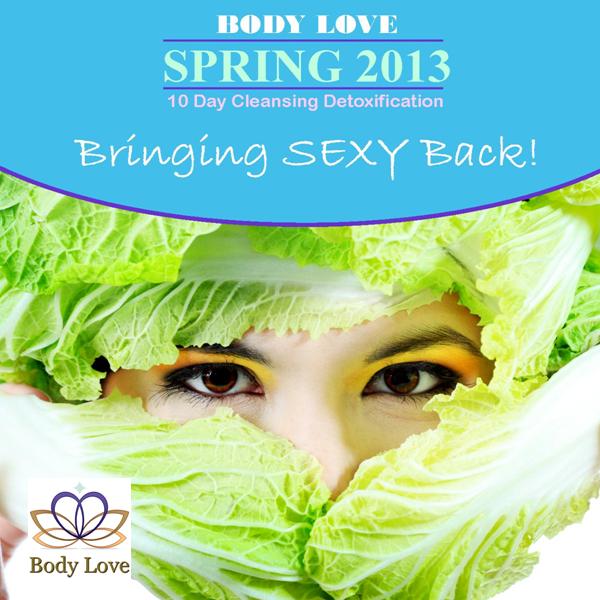 Clients are EXCITED!
Wooohooo!! Wearing a pair of pants today that haven't fit in for about a year! And they are comfortable!! Love it!!! Can't say enough good things about Body Love! It's the best!!!
"Feeling motivated and amazing this morning!! I have lost 8 pounds as of this morning! I don't miss any of the bad foods I cut out. The food I am making with all whole grains, fruits, and veggies tastes awesome and are so satisfying! Ed has lost almost 10 pounds, and he looks so good! You can really see it in his face, and his waist! So proud of him! He is feeling really great! Love, love, love, this diet! No supplements or diet drugs, just natural foods and the right diet. Amazing!!!"
Sara and Ed Skorak, Elkton Md
Hey!… Luved the detox! I can't wait to do the spring detox w some new foods. I enjoyed the recipes which made it a little easier for me. I lost 6 lbs which I didn't feel was bad considering I don't have too much I want to loose but was def happy w 6! I can't believe how much better my skin looks! Thx again Jeanie and will be purchasing the Spring detox soon! Can't wait to b boating soon.
Carrie Kirban, Kirban Customs  PA
"Thank you Jeanie and Body Love!  After the Fall Detox, I felt amazing.  I gained extra energy, a clearer complexion and I lost 5 lbs!  Now, I drink a Greenie Bikini almost everyday.  The meals were so satisfying and tasty.  I loved how the snacks were quick to prepare and easy to take on the go.   I enjoyed the daily emails filled with nutrition information and lots of encouragement."
Stephanie Seel, Annapolis MD​​
"That 10 day detox certainly was a trial but I am inspired to have lost 8lbs in 10 days and now want to continue to lose by incorporating some of the great recipes into my menu and by using the advice Jeanie has given me.  I am keeping in mind all the things she has taught me as well to help motivate me to make the right choices!"
Camille Contino, Shadyside MD
"Thank you Jeanie, for introducing me to the 2013 Winter Cleanse. I loved the food, every recipe, every day. My favorite is the White Confetti Bean Soup. The recipes are easy to make. I liked the Cleanse so much I re-did after 10 days. I feel great, and not to mention after the first 10 days, I lost 9.6 lbs!
Thanks Jeanie for helping me when nothing else has worked! Looking forward to the Spring Cleanse!"
Kelle Munoz, Wilmington DE
The first thing you start with is a 10 day detox and when I heard her say that I had visions of eating nothing but brown rice and grapefruit.  But it is nothing like that!  The detox portion of her program consists of a variety of vegetables, fruits, grains, legumes and nuts in a handful of simple and delicious recipes.  It is all very tasty and I never felt deprived or overly hungry.  And the results are amazing.  Within the first day or two my energy levels were way up and within 5 days my pants were feeling loose at the waist.  I lost 6 pounds!  That is a great feeling for a guy. 
Chris Garman, Annapolis MD
Email me if you have any questions!
---
---
Categories: Anti - Aging, coaching, Detox Diva, Inspiration, Nutrition, Vegan, Vegetarian, Weight Loss